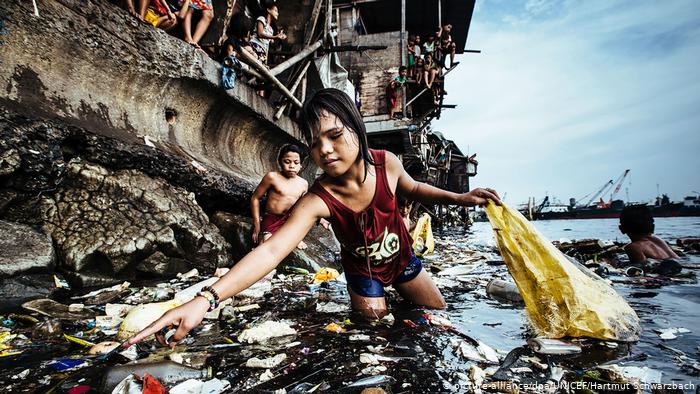 Poverty, pollution and child labor
German photographer wins UNICEF photo of the year
Hartmut Schwarzbach's picture shows a young girl in search of plastic waste in a Manila slum. UNICEF say the photo successfully captures the "three tragedies of our time": poverty, pollution and child labor.
Children of Manila's slums 
At the time of the photograph, the girl was 13 years old, according to Schwarzbach. She is now 15.
According to UNICEF, many young children are forced  to collect waste in Manila's contaminated waters.
"They risk their health and often also their lives, when they are in the germ-contaminated water … to search for resources to sustain their existence."
UNICEF highlighted at the awards ceremony in Berlin that even if child labor is banned, "many girls and boys in slums have no other choice."
Hartmut Schwarzbach is 
German freelance photojournalist was awarded the "UNICEF Photo of the Year 2019" Thursday for his picture of a young girl fishing for 

plastic waste in polluted waters

 in the Philippines' Port of Manila. 

Hartmut Schwarzbach captured the girl, Wenie, as she collected plastic pieces in exchange for some money from a recycler.

The UN Children's Fund said that Schwarzbach's photograph is significant because it tells "of the courageous fight for survival of children in the face of three tragedies of our time: poverty, pollution and child labor."

For many years, Schwarzbach has expressed his sorrow for poverty around the world through his photographs.