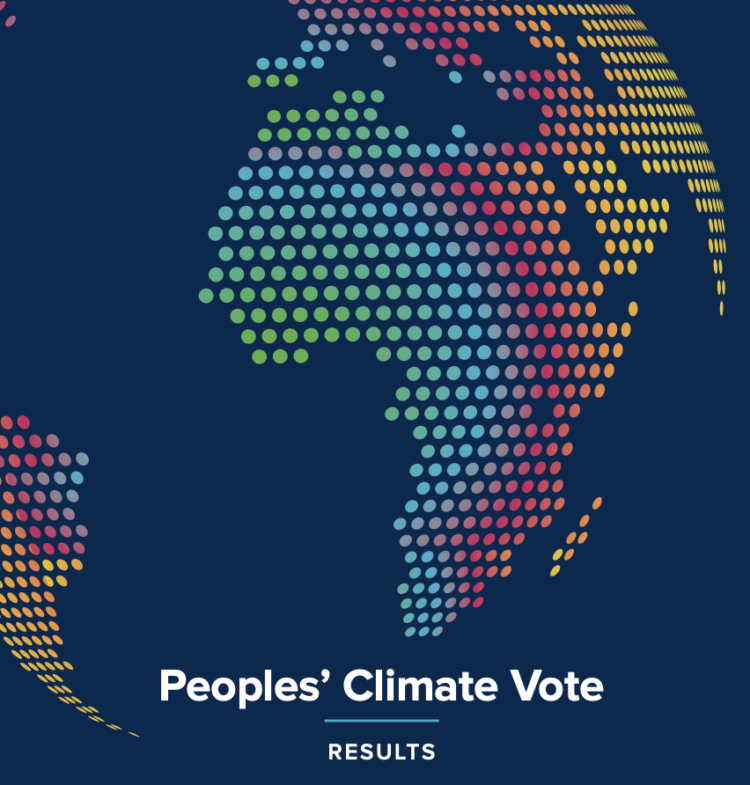 Peoples' climate vote
The World's Most Popular Climate Policies 
After being asked about their belief in a climate emergency, and regardless of their views on that issue, all respondents in the Peoples' Climate Vote were asked which of 18 climate policies they would like their country to pursue to address climate change. 
The policies proposed represent some of the most significant and recommended solutions to tackle climate change. Three options were offered to respondents for each of six policy areas: energy, economy, transportation, farms and food, protecting people, and nature.
Four climate policies emerged as the most popular of the 18 proposed to respondents in the Peoples' Climate Vote (see Figure 9). These were =
to conserve forests and land (54%)
use solar, wind and renewable power (53%),
climate friendly farming techniques (52%),
investing more money in green businesses and jobs (50%).

 
*Peoples' climate vote

 
In February 2020, the United Nations Development Programme (UNDP) and partners, including the University of Oxford, and a number of non-governmental organisations (NGOs), launched the Mission 1.5 campaign to educate people about climate change solutions and ask their opinions on the priority actions that governments should take to address the crisis.

 
The campaign has three pillars – an online game, Mission 1.5, a learning website, Mission 1.5 in Action, and the Peoples' Climate Vote, the largest survey of public opinion regarding climate change ever conducted. The three parts are designed to work together to provide people
with an engaging and unconventional way to learn about climate action, to access materials explaining why different climate policies work, and to vote for the ones they want to be enacted in their country.